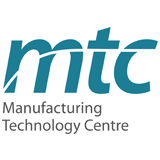 Manufacturing Technology Centre
The MTC represents one of the largest public sector investments in manufacturing for many years and is housed in a 12,000 square metre purpose built facility at Ansty Park, Coventry. The centre opened in 2011 and was founded by the University of Birmingham, Loughborough University, the University of Nottingham and TWI Ltd, our industrial members include some of the UK's major global manufacturers.
We provide a high quality environment for the development of cutting edge technologies into manufacturing processes with the aim of delivering truly innovative solutions to UK industry.
The MTC is an open access centre. We provide a flexible approach to working with companies of all sizes from SMEs to Tier 1s and large OEMs supplemented by a membership scheme which creates a collaborative research programme.