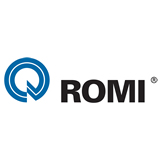 Romi
​Romi have designed and manufactured machine tools for over 80 years . With a complete product range of over 140 machines, Romi offers an excellent range at competitive prices to many manufacturing sectors including aerospace, automotive, oil & gas, medical and general sub-contract engineering. Romi offer a wide choice of precision manual/teach CNC lathes, high volume production turning centres and vertical machining centres.
Description

Video

PDF

EDGECAM 2015 R1 Waveform Turning on a Romi GL-240

EDGECAM showcasing 2015 R1 Waveform Turning on a Romi GL-240 at Southern Manufacturing UK 2015 with tooling supplied by Kennametal

Romi

Cristofóli Reduces Machining Time with Edge­cam Waveform Technology on a ROMI Discovery 1000

EDGECAM partner ROMI UK at Interplas 2014

Cycle time reduction of 70% with EDGECAM Waveform. Waveform roughing strategy is a high speed machining technique that maintains a constant tool
cutting load by ensuring the tool engagement into the material is consistent.