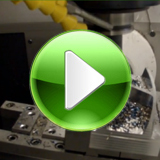 Adveon
​Increase your productivity and security in CAM programming
1. Establish catalogue library
The ISO 13399 cutting tool data standard lets you work with tools from any supplier and guarantees the accuracy of the geometrical information.
2. Develop your own library
Pick the tools you use in your daily work. Overview and maintain your assortment.
3. Create assembly
Build your tool assemblies - quickly and safely - and see immediate results in 2D and 3D. Instantly export to CAM or simulation software.
Adveon is a tool library system developed by Sandvik Coromant and marketed by authorized partner EDGECAM.
Description

Video

PDF

Adveon tool library

Adveon is a tool library system developed by Sandvik Coromant and marketed by authorized partner EDGECAM

Adveon tool library

EDGECAM is the first CAD/CAM platform to integrate Sandvik Coromant Adveon Tool Library